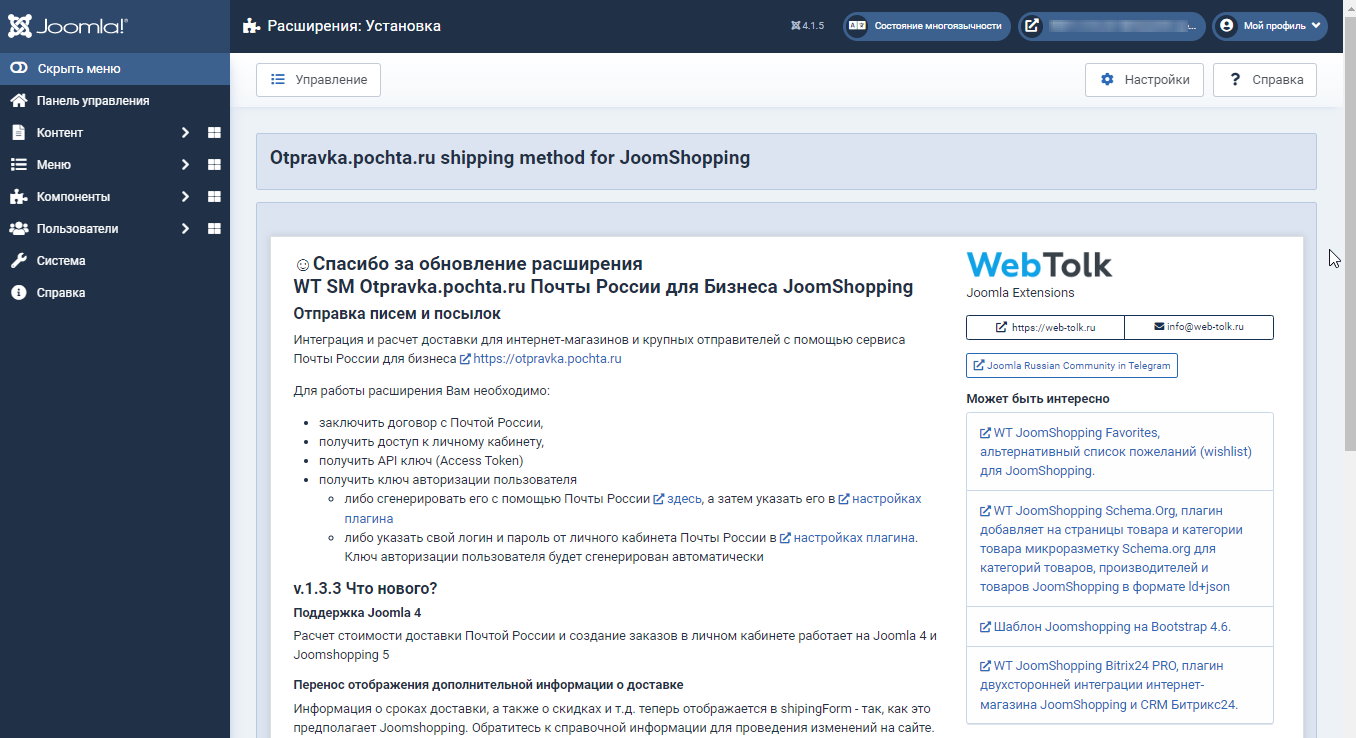 ---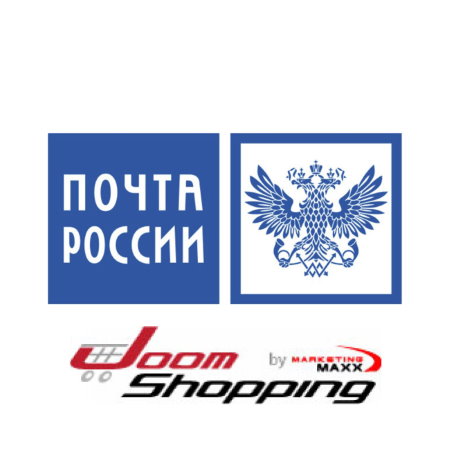 WT SM Otpravka.pochta.ru
Extension for calculating the cost of delivery and integration of the Joomla JoomShopping online store with the personal account of the Sending Russian Post for business service. The cost is calculated according to the rates according to Your agreement with Russian Post. Currently available only in Russian. Joomla 3 and Joomla 4 support.
Description
Features
In the Joomla JoomShopping settings, only those post offices and only those tariffs that are described in your contract and are available in your personal account are shown. Nothing superfluous.
Calculation of the cost of delivery according to the current tariffs of the Russian Post for business.
Display of delivery dates
Displaying additional information about the delivery method (SMS notifications, VAT amount, etc.)
Unlimited number of ways to deliver Joomla JoomShopping using Russian Post
The possibility of extra charges for both a separate delivery method and not all delivery methods at once.
The ability to specify the weight correction factor as for a separate delivery method. and for everything at once. The weight of the package is included in this coefficient.
Integration with the Personal account of the Russian Post for Business. Sending order data.
Getting the track number and showing it to the buyer on the JoomShopping order completion page.
Displaying debugging information at the stage of calculating the delivery cost.
The ability to disable the display of the delivery method in case of errors.
Sending the track number to the buyer's e-mail and recording it in the order history.
The ability to set a discount from the order amount for each delivery method by Russian Post. Read more below.
The fixed cost of delivery specified in the price for the delivery method is taken into account. Discounts from the order amount are also applied to it.
Creating a track number when changing the order status.
Video
Video demonstration of the WT SM Otpravka.pochta.ru extension for the JoomShopping online store (CMS Joomla).Settings take less than 5 minutes.
When creating a shipping method, specify the alias sm_wt_otpravka_pochta_ru_shipping_form to display a delivery dates and additional information.
Setting up a discount on the JoomShopping order amount for Russian Post
3 discount modes
Fixed amount. & nbsp;We subtract it from the delivery cost with all the coefficients.
A percentage of the delivery amount. We subtract the specified percentage from the delivery cost.
Free shipping.
For clients, it is shown:
delivery amount
the amount of the order from which the discount comes
discount amount
Fixed price of the delivery method
In the prices for JoomShopping delivery, it is possible to specify the delivery cost manually. Now this price takes precedence over the price received from the Russian Post. Prior to version 1.3.0, the price of the delivery method from the JoomShopping settings was ignored.
If a fixed delivery cost is specified , the fixed delivery cost is shown to the client. The price of the Russian Post is ignored.
Discounts from the order amount are also applied to the fixed cost:

Fixed discount (N rubles). If the discount amount is greater than the shipping cost , the discount amount is equal to the shipping cost.
A percentage of the delivery cost. The fixed cost specified manually is reduced by a percentage in the same way as the price of the Russian Post.
Free shipping. The shipping cost will be 0.

These settings are specified for each price of the delivery method separately. For each delivery price, you can specify a diff

For the extension to work, You need to:

sign a contract with Russian Post,
get access to your personal account,
get an API key (Access Token)
get the user authorization key

or generate it using Russian Post here, and then specify it in the plugin settings
or enter your username and password from the personal account of the Russian Post in the plugin settings. The user's authorization key will be generated automatically
Joomla
Extension type:

Package

Package composition:

File, Library, Plugin

Joomla version:

3.9, 3.10, 4.1
Gallery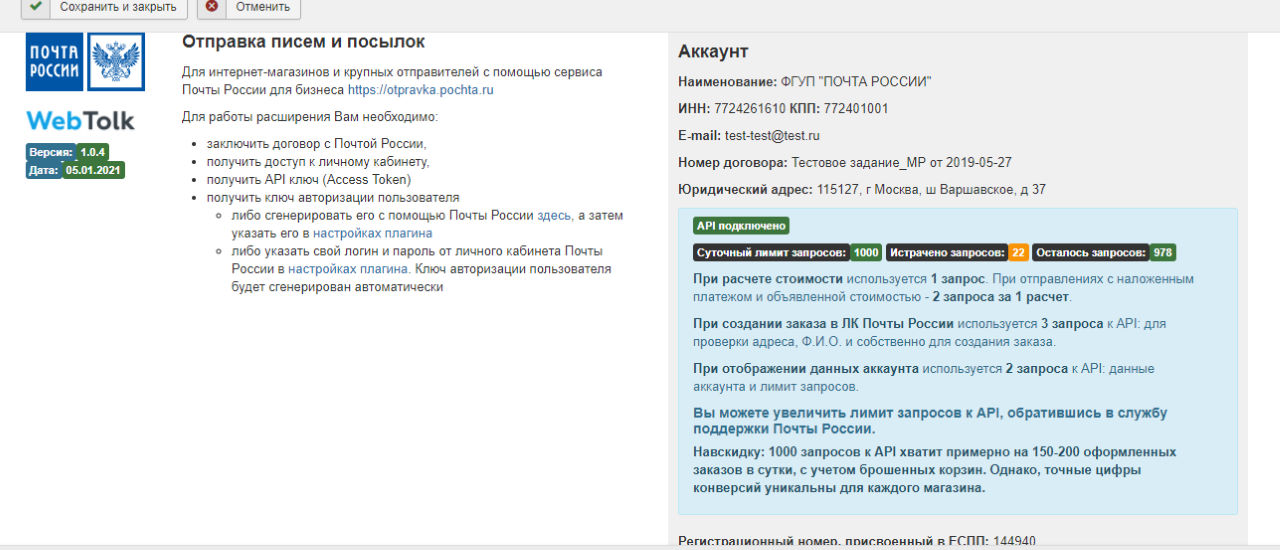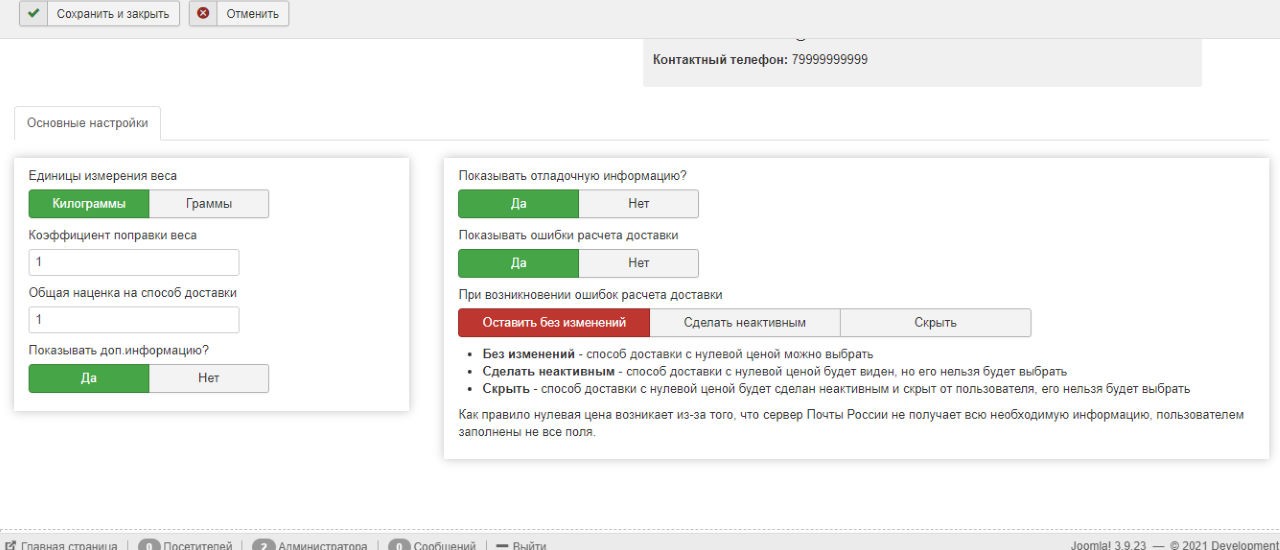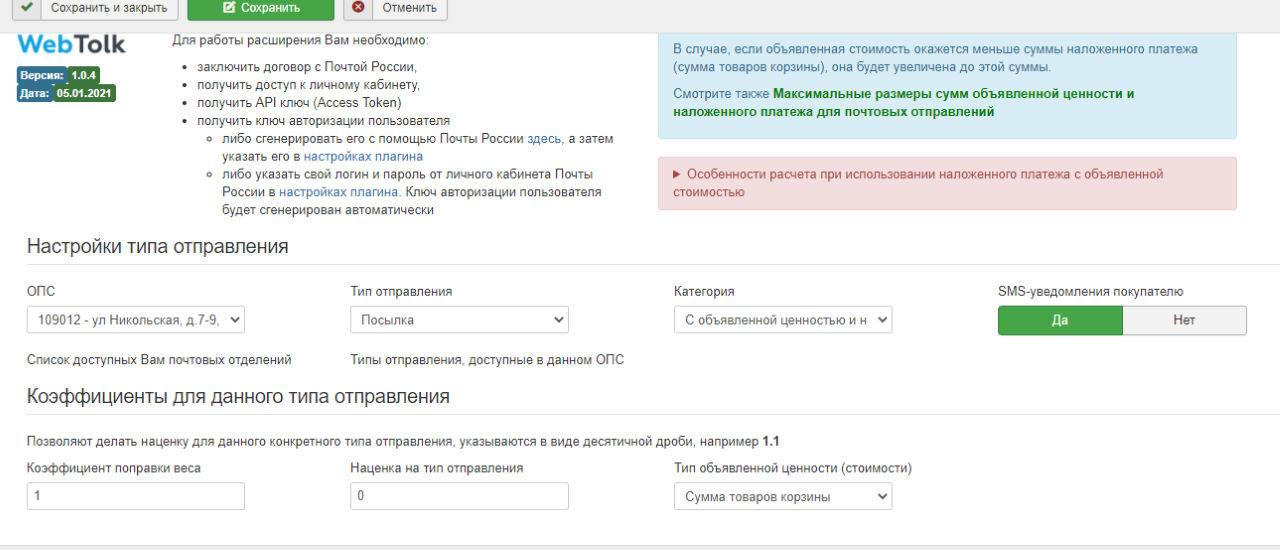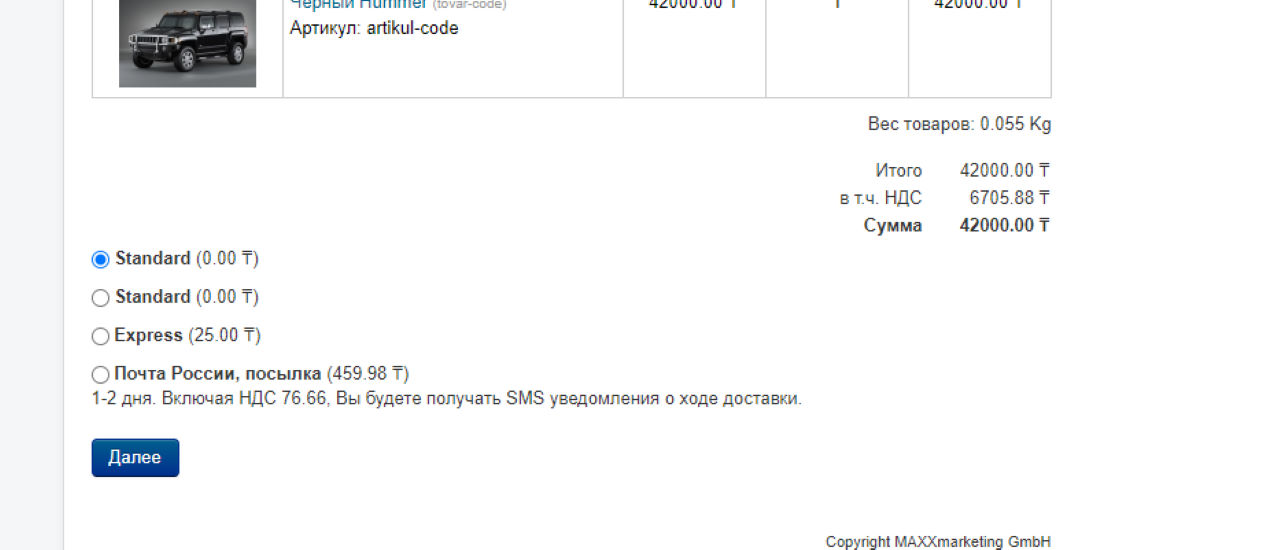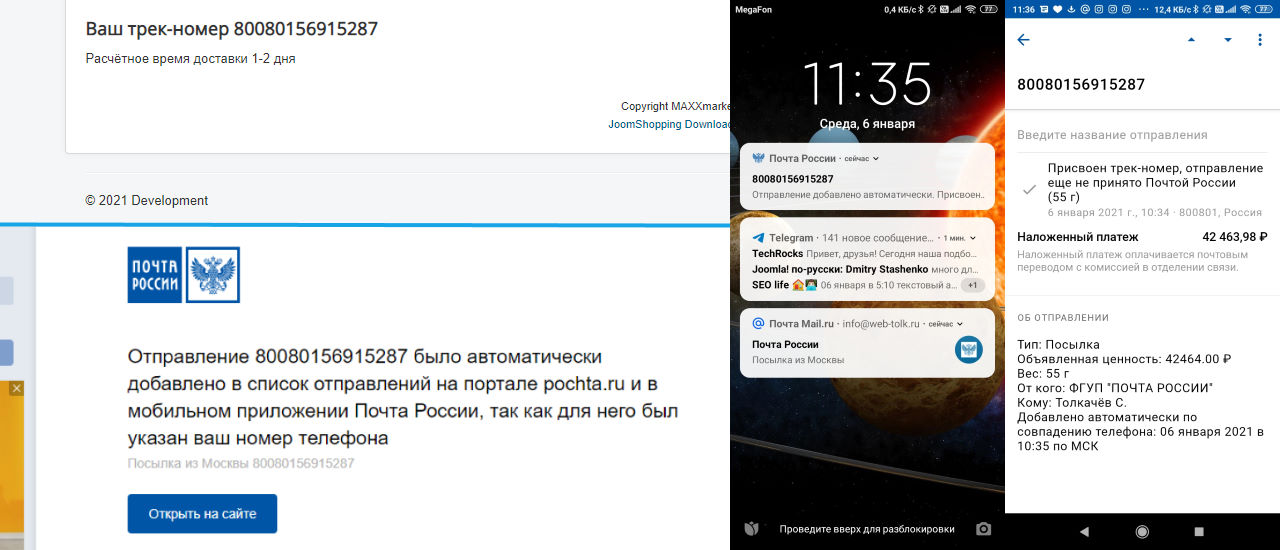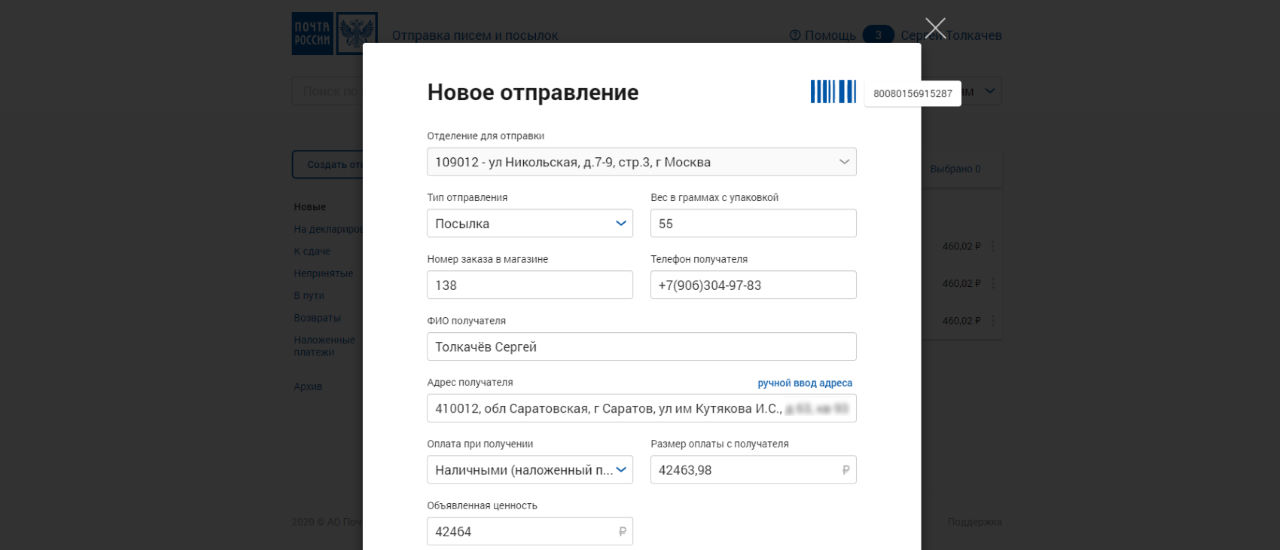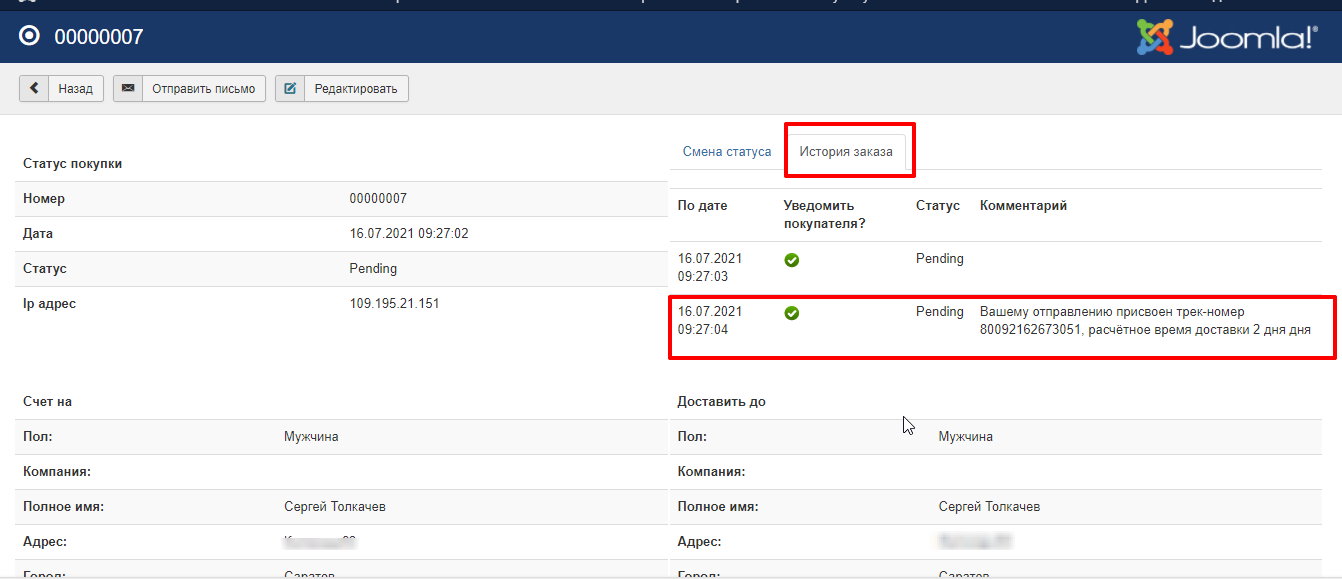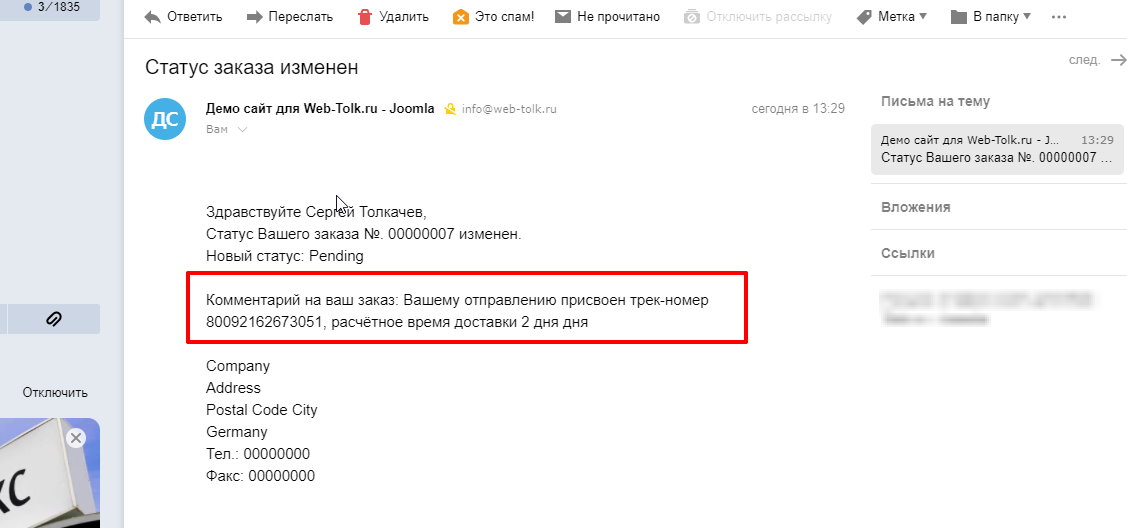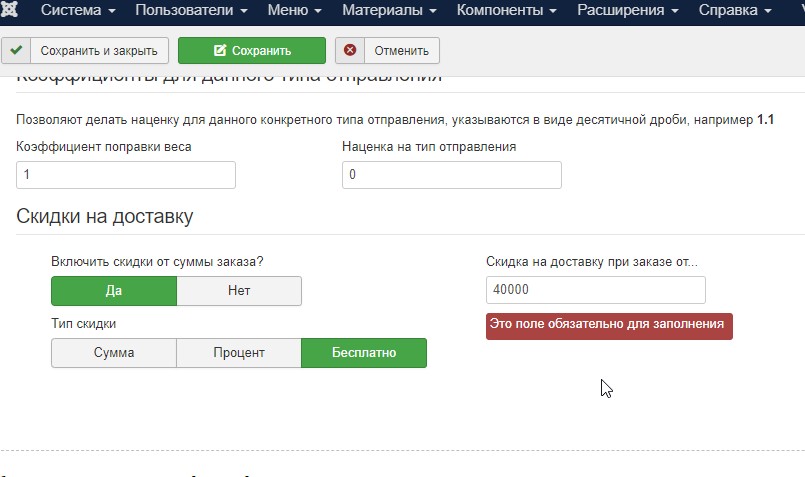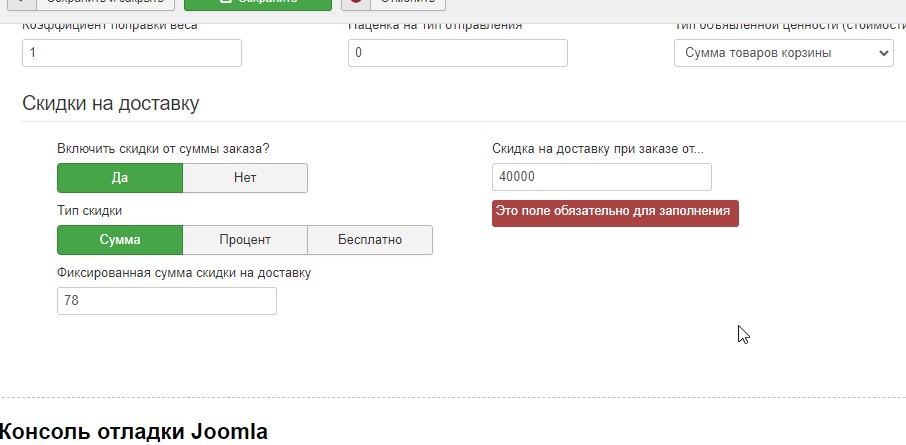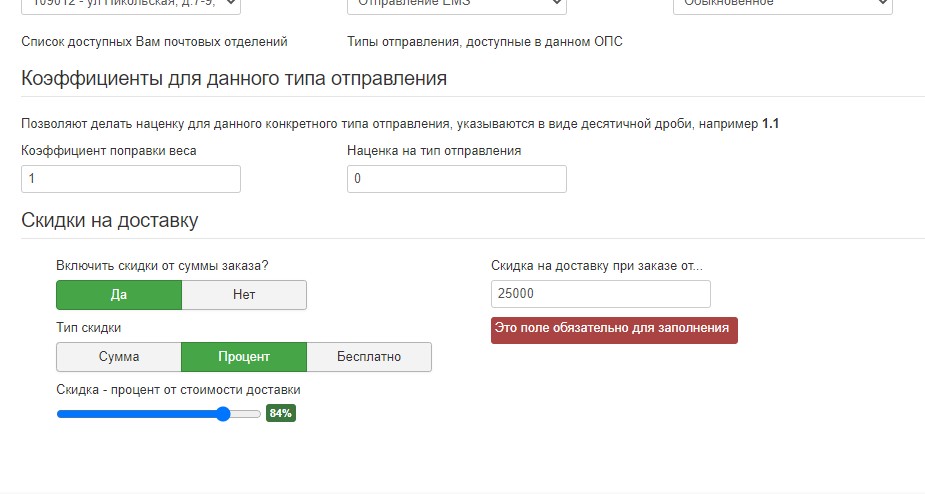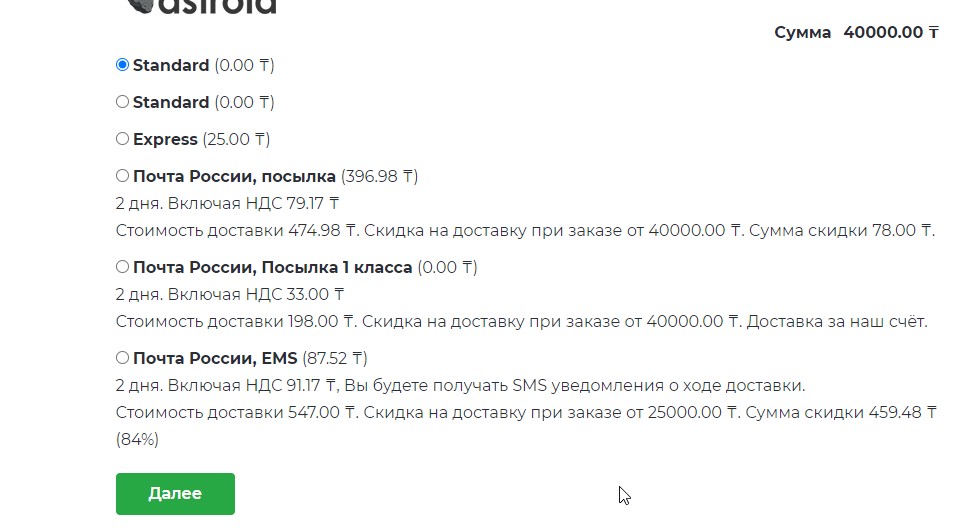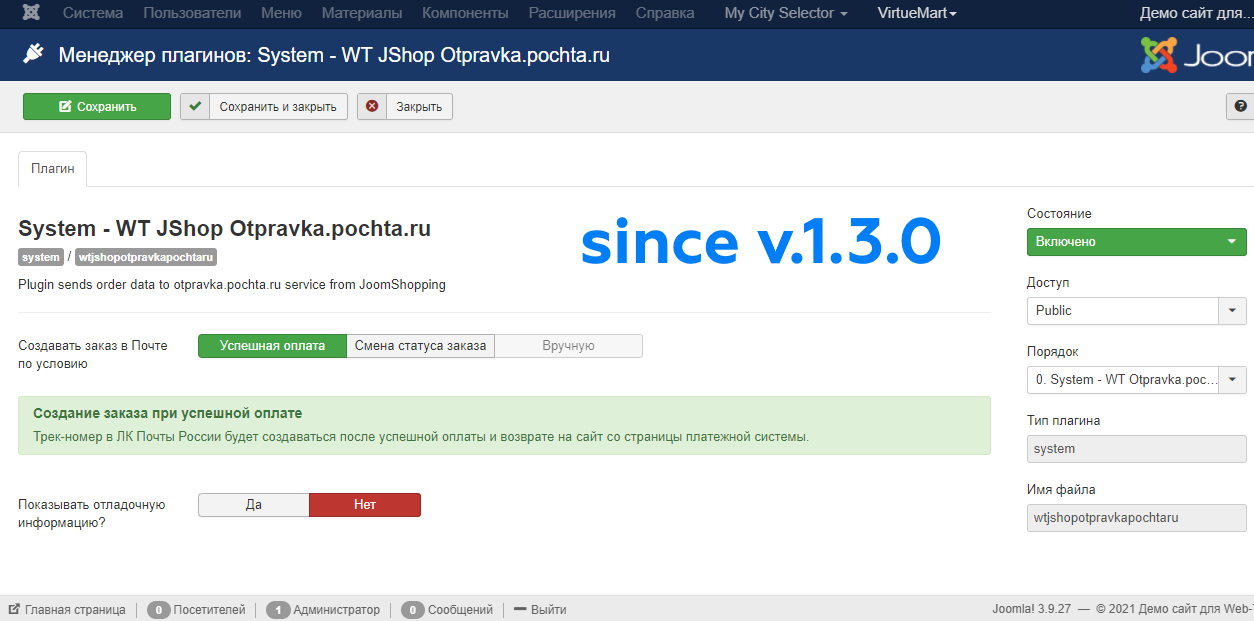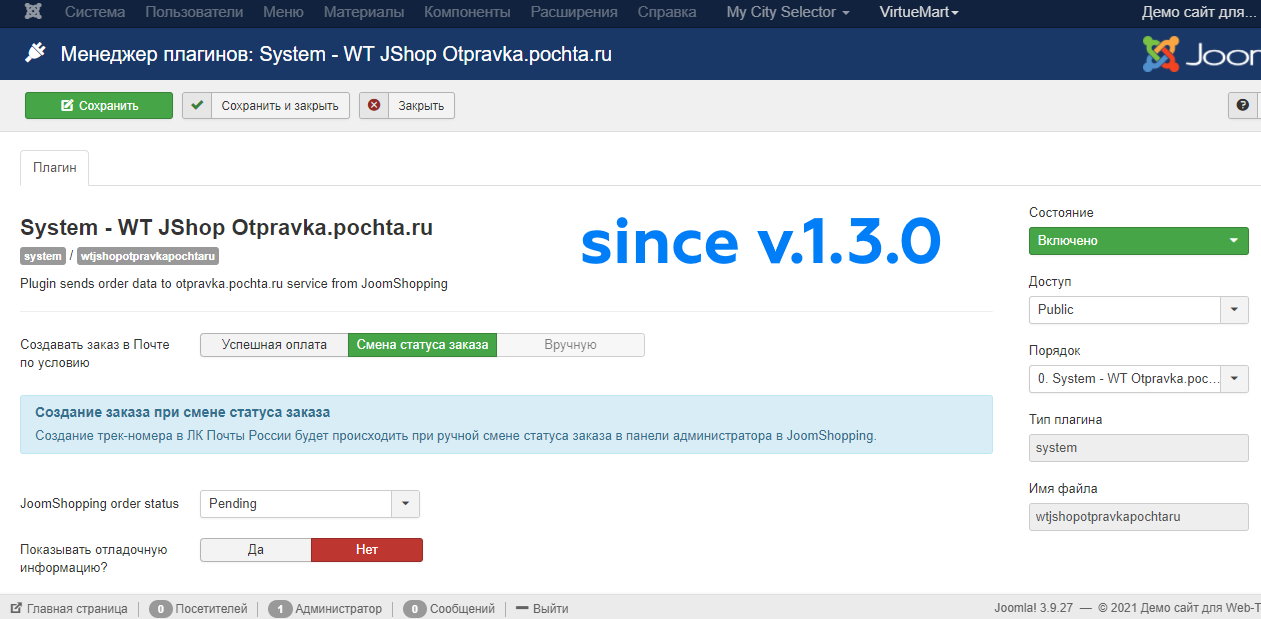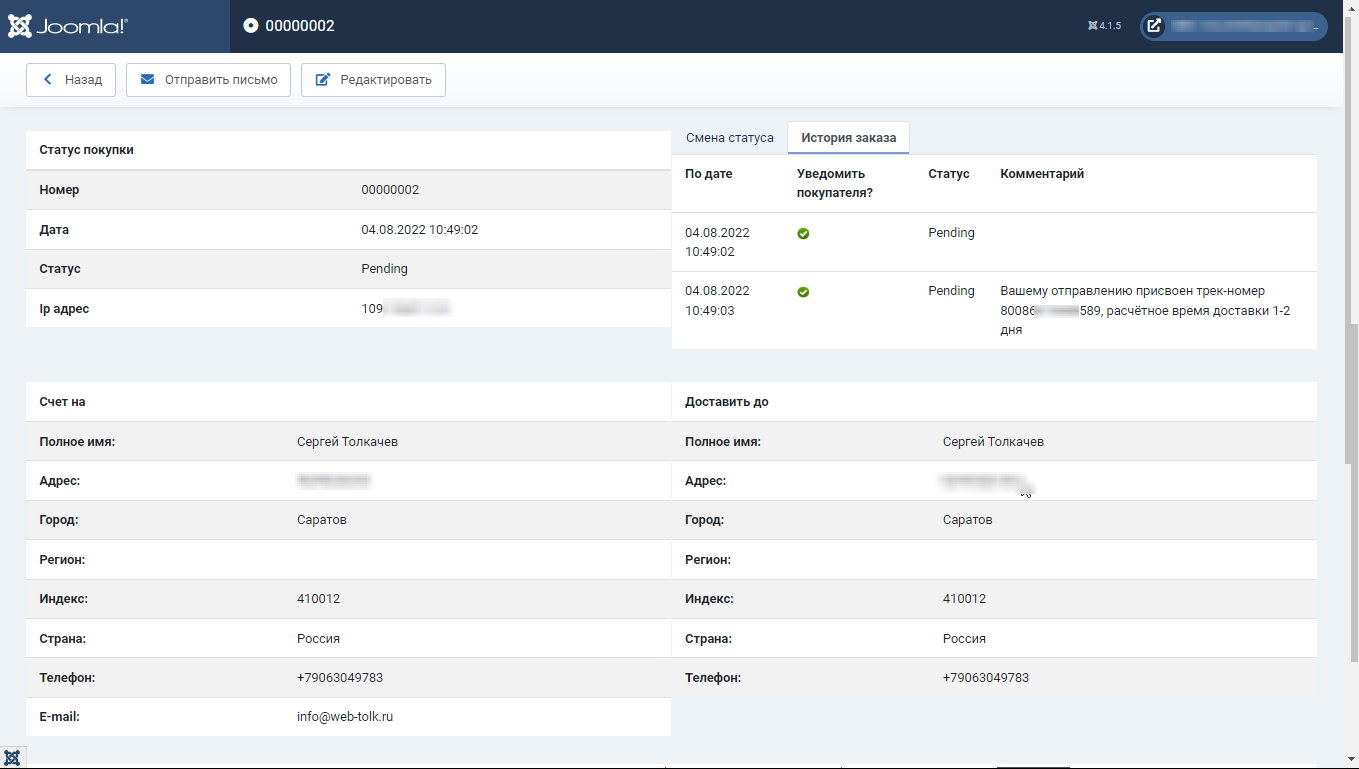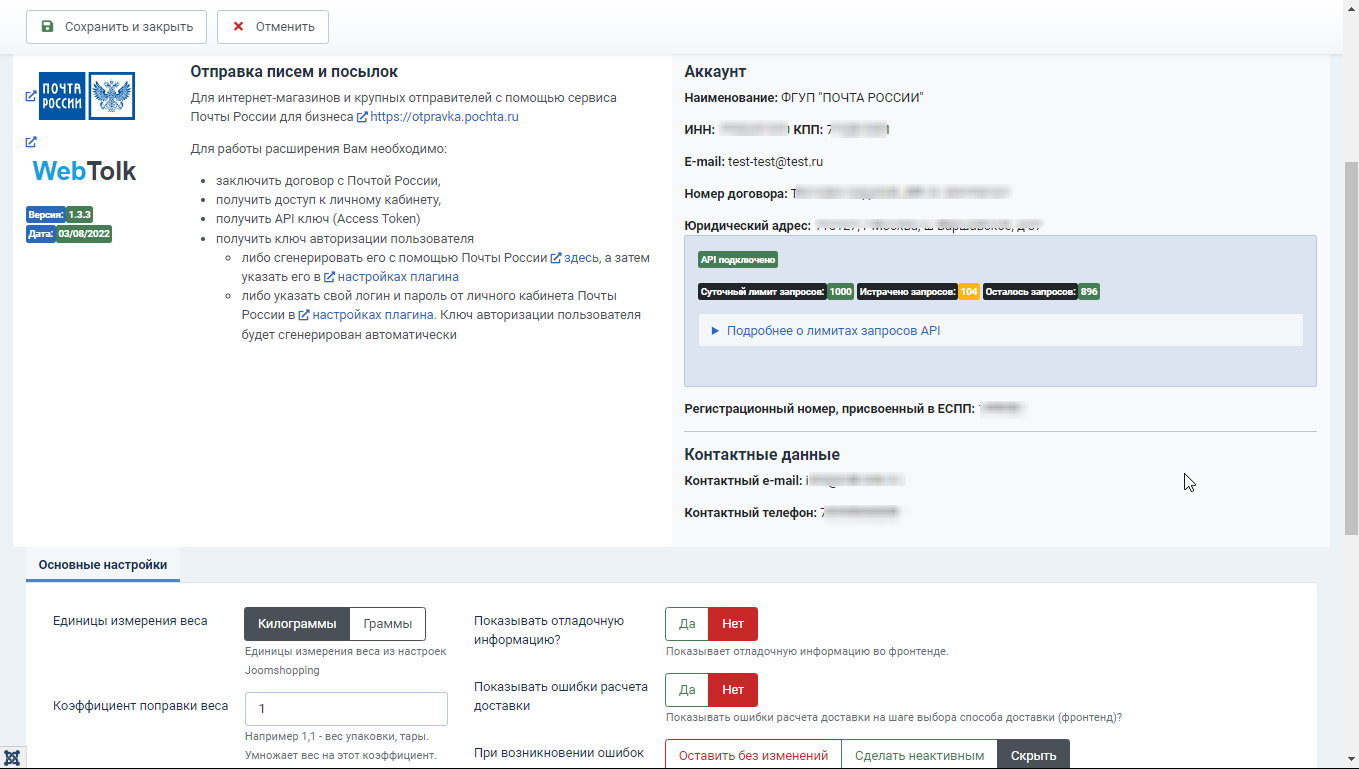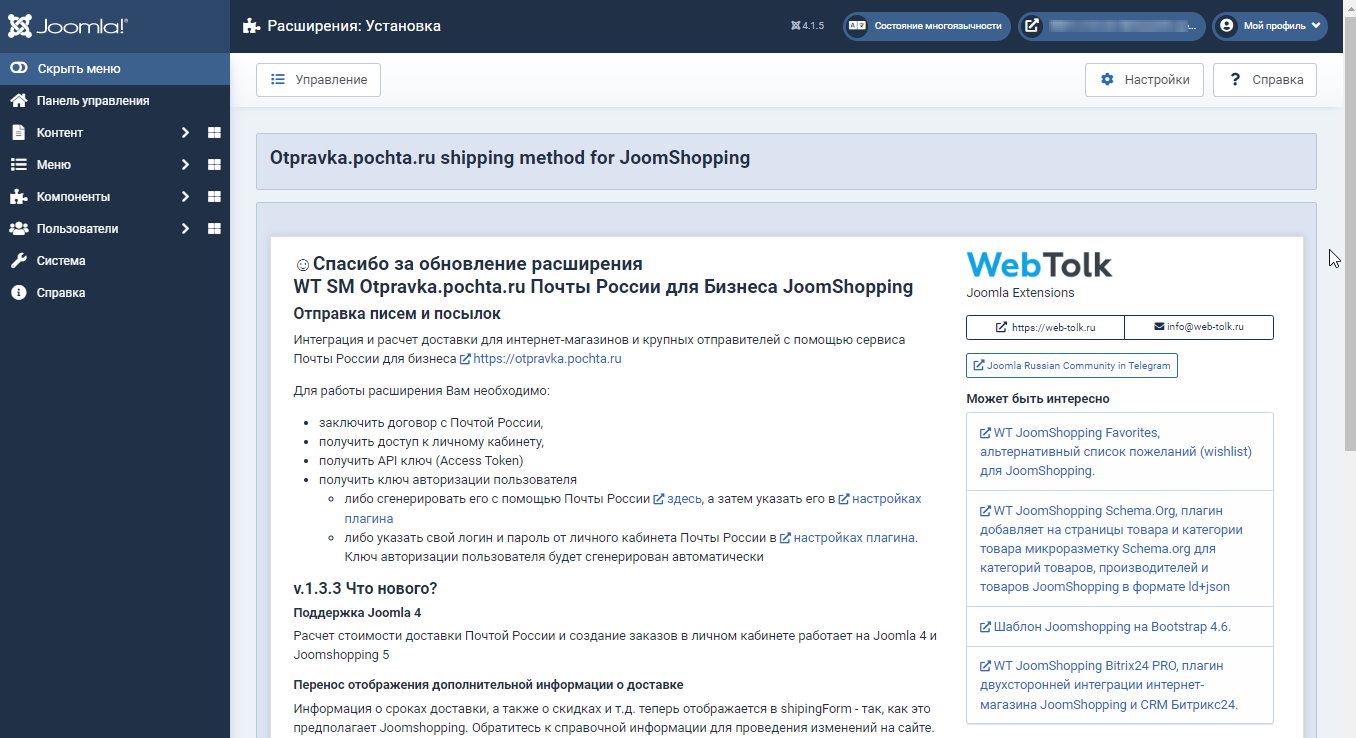 What's new
WT SM Otpravka.pochta.ru v.1.3.6
---